GRP Floor options & products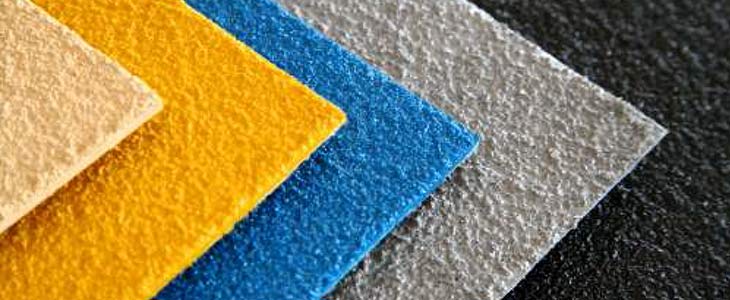 GRP Non-slip Flooring
Thousands of people every year suffer injury as a result of slips and trips, the vast majority being preventable. GRP anti – slip flooring panels provide a quick, safe, effective solution to slippery pedestrian and vehicle traffic areas where slips and falls are a potential hazard. GRP Sheets and strips are easy to install using mechanical fixing and / or general purpose adhesive and can be walked on usually within one hour of installation.
GRP Gritted plate and GRP stair nosing's can be manufactured using either general purpose grade or Class 1 fire rated ISOpthalic resin systems.
However, for the ultimate in fire resistance, PHENOLIC resins can be incorporated, which not only provide the best fire resistance of any known composite material, but also produce virtually no toxic fumes or smoke in the event of a fire. GRP gritted panels and GRP nosing's are currently used in the London Underground network, and in other high-risk applications such as refineries, chemical plant & offshore installations.
Customised GRP Flooring
At GRP Grating Systems, we pride ourselves on the fact that we can offer customers a bespoke product and a range of benefits other companies would be unable to achieve.
These include: Available in any colour › Manufactured to required size › Fast turn around › Highly competitive pricing › Choice of highly fire rated options › Fine, medium or coarse surface.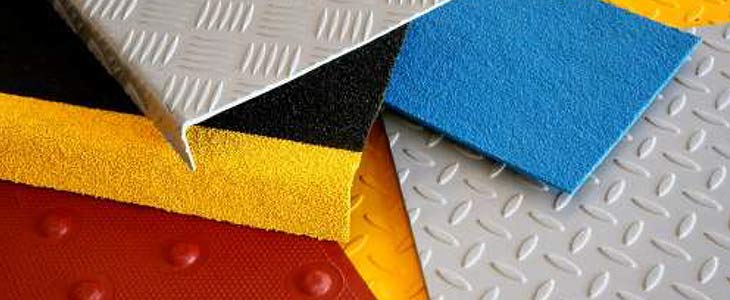 GRP Plate Flooring
In applications where a more aesthetic product is required, GRP chequer plate is an excellent option to the gritted sheet.
GRP Chequer plate comes with either a distinctive 'tear drop' or five bar pattern, and can be produced with additional re-enforcements to ensure an incredibly strong and robust panel. Alternative resin systems such as Atlac's or vinyl esters can be utilised giving a product with a high degree of chemical resistance, which can be installed in the harshest of environment.
GRP Tactiles are hardwearing moulded panels installed to assist the visually impaired to determine a change in ground surface at areas such as pedestrian crossings and railway platforms.
What makes our product unique, is the fact it can be supplied as either a single tile, in a strip of three, or square of nine, minimizing fixing points and negating the requirement for expensive groundwork.
Tiles can be supplied in any colour and a range of varying thicknesses to suit particular applications.
GRP Anti-slip Tread Covers
GRP anti–slip stair treads provide a quick, safe & effective solution to worn, slippery and uneven steps.
GRP stair treads are easily installed by simply using adhesive and / or mechanical fixing, and ensure a robust, durable and extremely slip resistant product. High visibility edge details can be incorporated to assist compliance with the disability discrimination act.
GRP anti–slip step stair treads are highly corrosion and chemical resistant and are manufactured with a choice of FINE, MEDIUM or COARSE grit.
Specifications
GRP plate products
Standard: 2.4m x 1m / 2m x 1m
Non standard sizes to order.
Thickness 4mm standard, up to 20mm thick gritted or non gritted.
Available in any RAL colour. Standard colours black, grey, beige, yellow, all with yellow or white nosings or one colour.
Also available in half one colour and half another or any combination you require.
GRP tactiles
Standard: 400mm x 400mm
Available in beige or russet with blister or corduroy finish. Gritted surface.
GRP stair tread covers
Available as above or cut to size to your requirements. Any RAL colour or standard combinations.
Thermal conductivity: 0.2 w/mk
Tensile strength: 123 mpa
Tensile modulus: 7.1 gpa
Flexural strength: 193 mpa
Thermal co-efficient of expansion 30 x 10-6/deg C Sheet dimensions (feet) 8 x 4 max (mm) 2440 x 1220 Approx. weight
4mm thick 4.95kgs/m2 6mm 7.2kgs/m2
8mm 9.8kgs/m2 10mm 12.2kgs